The International Conference on "PROBLEM BEHAVIOR IN PEOPLE WITH AUTISM: FROM ASSESSMENT TO TREATMENT"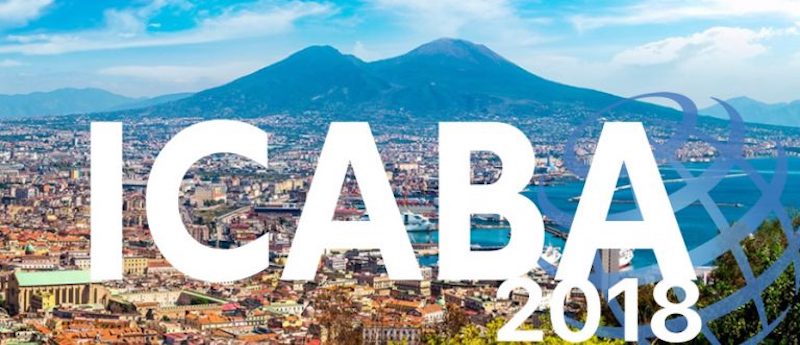 Sta per realizzarsi la terza edizione di ICABA, International Conference of Applied Behavior Analysis, la prima e forse la più importante conferenza Italiana sull'Analisi del Comportamento Applicata e intervento per l'Autismo. Le scorse edizioni di Salerno 2014 e di Napoli 2016 hanno visto la partecipazione di oltre 400 persone tra operatori, genitori e studenti.
---
THE INTERNATIONAL CONFERENCE OF 'PROBLEM BEHAVIOR IN PEOPLE WITH AUTISM: FROM ASSESSMENT TO TREATMENT
"
Naples (Italy),
November 23-24-25, 2018
Cos'è ICABA? E' un convegno internazionale sull'autismo, giunto alla sue terza edizione, che si propone di tracciare lo stato dell'arte sulla tematica e sui trattamenti ad essa legati, in modo da essere sempre al passo con i tempi e con la ricerca.
Quali saranno i temi della conferenza 2018? Quest'anno, per la terza edizione, saranno presenti relatori di fama internazionale a discutere sull'assessment ed il trattamento di Comportamenti Problema gravi.
Stereotipie Motorie e Vocali, Autolesionismo, disturbi Alimentari, rappresentano le sfide più difficili e importanti nel campo del trattamento dei Disturbi del Neurosviluppo Atipico e in particolare per l'Autismo.
Chi partecipa? ICABA è rivolto a tutti coloro che ogni giorno operano con soggetti dello spettro autistico, in particolare a tutti i medici, gli operatori sanitari, gli educatori, gli insegnanti e i genitori.
Dove si svolge? Il convegno si terrà a Napoli, nella Sala Ischia della Mostra d'Oltremare, i prossimi 23/24/25 novembre 2018
PROGRAMMA
2 BACB CE hours for each Magistral Conference (8 BACB CEs)
Friday November 23, 2018
Meeting with Parents
Ore 8.00-9.00 Parent's Registration
Ore 9.00-10.00 Authorities greetings
Pre-conference session:
Moderator:
Ore 10.00-12.00 Keynote speech

Richard Hastings (University of Warwick: Coventry, United Kingdom)
"Psychological well-being in children with autism and their family members: Implications for family support"
Ore 12.00-13.00 Discussion and conclusions
Conference
Ore 13.30-14.30 Check-In/Registration
1st Session
Ore 14.30-15.30 Apertura Congresso

Moderator:
Giovanni Maria Guazzo (IRFID)
"Modelli e interventi applicativi con i Comportamenti Problema"
Ore 16.30-17.00 Coffee-break
Ore 17.00-19.00
Magistral Conference: Gregory P. Hanley (Western New England University: Springfield, MA-USA)
"Toward Meaningful Outcomes for Problem Behaviors Associated with Autism from Skill-Based Treatments Relying on Synthesized Reinforcers"
Ore 19.00-19.30 Discussion
Saturday November 24, 2018
2nd Session
Moderator:
Ore 9.00-11.00
Magistral Conference: William Ahearn (NECC: Southborough, MA – USA)
"Life Beyond Ziti with Lines:
Assessing and treating feeding problems in children with autism"
Ore 11.00-11.30 Coffee-break
Ore 11.30-13.00
Free ABA practitioners communications
Ore 13.00-13.30 Discussion
Ore 13.30-14.30 Lunch Break
3rd Session

Moderator:
Ore 15.00-17.00
Magistral Conference: Ennio Cipani, Ph.D.
"Trigger Analysis with behavioral description:
combining experimentale and descriptive methods"
Ore 17.00-17.30 Coffee-break
Ore 17.30-19.00
Free ABA practitioners communications
Ore 19.00-19.30 Discussion
Sunday November 25, 2018
4th Session
Moderator:
Ore 9.00-11.00

Magistral Conference: Marc J. Lanovaz (Université de Montréal: Montréal, Canada)
"Assessment and treatment of stereotypy and other repetitive behaviors"
Ore 11.00-11.30 Coffee-break
Ore 11.30-13.00
Free ABA practitioners communications
Ore 13.00-13.30 Discussion and Conclusions
Per informazioni e iscrizioni cliccare a questo
link
---
Torna all'elenco Archivio Eventi